Welcome to Sierra Pacific Home and Comfort, Inc.
Your Home EV Charging Solution
At Sierra Pacific Home and Comfort, Inc., we have been at the forefront of home energy improvements since 1984. As the largest full-service home energy improvement provider in the Sacramento area, we are excited to expand our services to offer seamless and reliable electric vehicle (EV) charger installation for homeowners. Our mission is to make the transition to electric mobility easier and more convenient for residents in Sacramento, Rocklin, Lincoln, Loomis, Auburn, Davis, Vacaville, and surrounding areas.
Decades of Experience: With over 35 years of experience, Sierra Pacific Home and Comfort, Inc. has been a trusted name in the home energy improvement industry. Our team brings unparalleled expertise to every EV charger installation, ensuring the highest quality service.
Comprehensive Solutions: As a full-service provider, we offer a wide range of home energy improvement services. Our expertise in electrical systems and home upgrades ensures a seamless integration of EV chargers into your property.
Local Expertise: With our corporate headquarters located in Rancho Cordova, California, we have an in-depth understanding of the local regulations, permits, and requirements for EV charger installations in the Sacramento region.
Premium Products: We only partner with reputable EV charger manufacturers, ensuring that our customers receive top-quality, reliable, and future-proof charging equipment for their homes.
Free Estimate: We offer a free estimate for EV charger installation, allowing you to make an informed decision without any hidden costs or surprises.
Convenient Scheduling: To schedule an appointment for a consultation or installation, simply call us at 916-891-6421, and our friendly staff will assist you promptly.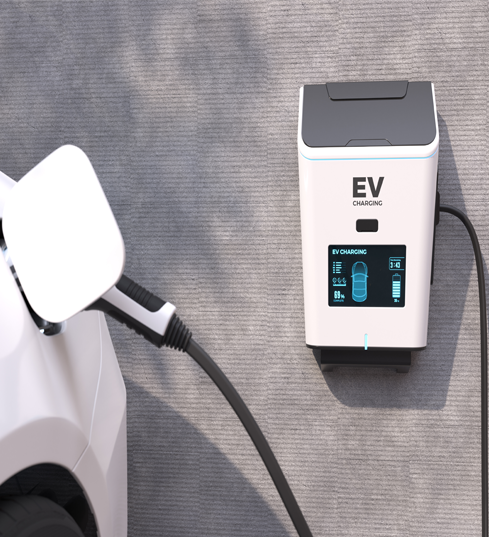 Residential EV Charger Installation: Sierra Pacific Home and Comfort, Inc. specializes in installing Level 2 EV chargers at homes. Our expert team will assess your property and recommend the most suitable charging solution based on your specific needs.
Site Assessment and Consultation: Our experienced technicians will conduct a detailed site assessment, taking into account your electrical setup and parking requirements. We provide personalized consultations to address any questions or concerns you may have.
Charging Infrastructure Upgrades: For homeowners with older or inadequate electrical systems, we offer charging infrastructure upgrades to ensure seamless integration and optimal charging performance.
Ongoing Support and Maintenance: We are committed to our customers' satisfaction even after the installation is complete. Our team provides ongoing support and maintenance services to keep your EV charging station functioning at its best.
Advantages of Home EV Charging
Convenience
Charging your electric vehicle at home provides the ultimate convenience, eliminating the need to visit public charging stations regularly.
Cost Savings
Home charging is often more cost-effective compared to public charging options, especially if you have a time-of-use electricity rate.
Environmental Impact
By switching to an electric vehicle and charging it at home, you are contributing to reducing greenhouse gas emissions and promoting sustainable transportation.
EV chargers – Everything You Need to Know!
Types of EV Chargers: There are primarily three types of electric vehicle chargers:
- Level 1 Chargers: These chargers use a standard household outlet (120-volt) and are the slowest charging option. They are typically provided with the electric vehicle and are suitable for overnight charging at home.
- Level 2 Chargers: These chargers require a 240-volt circuit and offer faster charging speeds compared to Level 1 chargers. They are commonly used for residential and public charging.
- DC Fast Chargers (Level 3 Chargers): These high-powered chargers use direct current (DC) and provide rapid charging for electric vehicles. They are mostly found at public charging stations and are not typically installed at homes.
Charging Speeds: The charging speed of an EV charger is measured in kilowatts (kW). Level 1 chargers usually offer charging speeds between 1 to 2 kW, while Level 2 chargers range from 3.3 kW to 22 kW or more. DC fast chargers can provide charging speeds of 50 kW and above, allowing for rapid charging.
Charging Times: Charging times vary based on the charger type and the electric vehicle's battery size and capacity. As a rough estimate, a Level 1 charger may take 8-12 hours to fully charge an EV, whereas a Level 2 charger could complete the process in 4-8 hours. DC fast chargers can charge an EV to 80% capacity in around 20-30 minutes, depending on the vehicle model.
Charging Connectors in California, USA: SAE J1772 (Type 1): This connector is the standard for Level 1 and Level 2 charging in California and across North America. It is used by most electric vehicles sold in the region and is compatible with Level 2 charging stations found at homes, workplaces, and public locations.CCS (Combined Charging System): CCS is the most prevalent fast-charging connector in California. It combines the traditional J1772 connector for Level 2 charging with additional DC pins for Level 3 fast charging. Many electric vehicles in California are equipped with CCS connectors, making it the preferred choice for DC fast charging at public charging stations along highways and major routes.

CHAdeMO: While CCS is more commonly used in California, some electric vehicles still use the CHAdeMO connector for DC fast charging. CHAdeMO-equipped stations can be found at certain public charging locations, but CCS is more prevalent for Level 3 fast charging in the region.

For EV owners in California, having a vehicle with both a J1772 and CCS connector is advantageous as it allows access to a wide range of public charging stations, including Level 2 chargers and DC fast chargers. However, most electric vehicles sold in California are now equipped with CCS connectors as the industry standard for fast charging.

Charging at Home: Installing a Level 2 charger at home is a popular choice for electric vehicle owners. It provides faster charging compared to a standard household outlet, offering more convenience for daily use.
Public Charging Stations: Public charging stations are available at various locations, including shopping centers, parking lots, and highway rest stops. These stations usually offer Level 2 chargers, and some locations may have DC fast chargers for quick top-ups during long journeys.
EV Charger Apps and Networks: There are several mobile apps and networks that help electric vehicle owners find and access public charging stations. These apps provide real-time availability, pricing, and other useful information.
Charging Etiquette: When using public charging stations, it's essential to be considerate of others. Move your vehicle promptly once charging is complete to allow others to use the station.
Planning Long Trips: For longer journeys, plan your route to include charging stops along the way. DC fast chargers can significantly reduce charging times during road trips.
Safety Considerations: Always follow safety guidelines and manufacturer's instructions when using EV chargers. Ensure that your charging station is installed by a qualified professional to prevent any electrical hazards. Remember, becoming familiar with these EV charger basics will help you make informed decisions about charging your electric vehicle and ensure a smooth and efficient charging experience.
Sierra Pacific Home and Comfort, Inc. is proud to offer our expert EV charger installation services to a wide range of electric vehicle owners. Our services are tailored to meet the needs of various top EV manufacturers, including but not limited to:
Tesla: As one of the most renowned electric vehicle manufacturers, Tesla owners can trust us to install their home charging solutions efficiently and effectively.
BMW: We have experience working with BMW electric vehicles to ensure they are charged conveniently at home.
Ford: Our services cater to Ford electric vehicle owners, offering them seamless home charging options.
Chevrolet: Chevrolet Bolt and other Chevrolet EV owners can count on us for reliable home EV charger installation.
Nissan: Nissan Leaf and other Nissan EV owners will find our expertise valuable for home charging solutions.
Mercedes: Mercedes-Benz electric vehicle owners can rely on us for premium charging infrastructure installation in their homes.
Toyota:We provide services to Toyota electric vehicle owners to make their transition to electric mobility hassle-free.
Volkswagen: Volkswagen ID. series and other Volkswagen electric vehicle owners can trust us for their home charging needs.
And many more! Regardless of the electric vehicle you own or plan to purchase, our team has the experience and expertise to ensure your home charging infrastructure is installed to the highest standards.
Contact us today to discuss your specific EV charger installation needs and take the first step toward convenient, eco-friendly, and cost-effective home charging for your electric vehicle.
Faqs - EV Charger Installation
An EV charger installation involves setting up a dedicated charging station at your home to recharge your electric vehicle's battery. It allows you to charge your EV faster and more conveniently than using a standard household outlet.